2021 Budget Priority Survey
As the vice chair of the Senate Committee on Appropriations, I will have a key role in molding our next state budget. I have put together a short survey below regarding items the governor has proposed for the 2022 budget, and as your voice in Lansing, I would like to hear your input regarding how your tax dollars will be spent.
Subscribe to my email list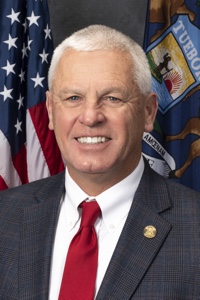 Welcome to the online office for Michigan's 34th Senate District. I am honored to serve as your state senator.
This website is dedicated to serving the people of the 34th District, which includes Muskegon, Newaygo, and Oceana counties. The site is a convenient way for you to stay informed on proposed legislation and how I am representing you in the Michigan Senate. You can also use the website to access valuable resources and information on a variety of topics.
My staff and I are here to serve you. Please feel free to email me or call the office at 517-373-1635 if you have any questions, comments or need assistance in any matter. We'll be glad to help.
Thank you for visiting,
Jon Bumstead
State Senator – 34th District